2018 Agenda
At Streaming Media East 2018, you'll hear the innovative approaches that the world's leading organizations are deploying in live streaming, OTT, enterprise and educational video, encoding and transcoding, next-gen TV, VR video, video production, content delivery, content monetization, and much more. Whether you are an executive or manager interested in new business strategies and trends or a production, IT, or engineering professional from the technical side, you'll find all of your bases covered.
Monday, May 7, 2018
9:00 a.m. - 4:30 p.m. | Streaming Media University Workshops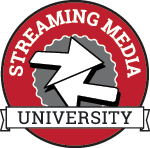 Streaming Media University features world class experts delivering content-rich training. This series of workshops at our Streaming Media East 2018 event offers attendees the opportunity to get deep-dive training on online video and streaming technologies. Three-hours in length, these workshops give you the sound theories and practiced techniques to become a top performer in the online video field. In the end, you'll walk away with a Streaming Media University Completion Certificate, and the professional know-how to enhance your career.
All Streaming Media University workshops include a light continental breakfast and morning and afternoon breaks PLUS complimentary access to the Streaming Media East Expo on May 8-9. Workshops may be registered for separately or are included with our Gold Pass options.
9:00 a.m. - 5:00 p.m. | Content Delivery Summit
The Content Delivery Summit is a one-day conference that brings together carriers, telcos, ISPs, and premium content owners for a detailed look at the technology and platforms being used to deliver and accelerate web content.
Tuesday, May 8, 2018
9:00 a.m. - 5:00 p.m. | Streaming Media East 2018 Conference Sessions featuring Live Streaming Summit
8:00 a.m. - 6:00 p.m. | Streaming Media East 2018 Expo
Wednesday, May 9, 2018
9:00 a.m. - 4:00 p.m. | Streaming Media East 2018 Conference Sessions featuring Live Streaming Summit
8:00 a.m. - 4:00 p.m. | Streaming Media East 2018 Expo