Program
Streaming Media East Connect 2021 is the career- and and organization-changing opportunity you've been looking for! Hear the innovative approaches that the world's leading organizations are deploying in live streaming, OTT, enterprise and educational video, encoding and transcoding, next-gen TV, VR video, video production, content delivery, content monetization, and much more. Whether you are an executive or manager interested in new business strategies and trends or a production, IT, or engineering professional from the technical side, you'll find all of your bases covered. Get actionable advice and strategies for moving your career and your business forward.
Free Webinar Series | May 17 - 24, 2021
Our free webinar series includes six-days of content featuring keynotes, panel discussions with experts, tech talks with the leading companies in the industry, and stand alone presentations. Each webinar is one-hour in length. The conference program is currently in development. If you'd like to join us as a speaker, please see our Call for Speakers.
Streaming Media University Workshops | May 25 - 27, 2021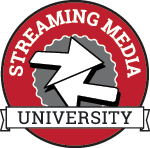 Streaming Media University features world class experts delivering content-rich training. This series of workshops at Streaming Media East Connect 2021 offers attendees the opportunity to get deep-dive training on online video and streaming technologies. Three-hours in length, you'll learn the sound theories and practiced techniques to become a top performer in the online video field. In the end, you'll walk away with the professional know-how to enhance your career.
Workshops will be posted soon.
Content Delivery Summit | May 25, 2021
Now in its 14th year, the Content Delivery Summit is the longest-running conference focusing on the confluence of the technology and business that enables online publishers to reach audiences at scale. Content Delivery Summit is a one-day conference that brings together carriers, telcos, ISPs, and premium content owners for a detailed look at the technology and platforms being used to deliver and accelerate web content. Find Out More.