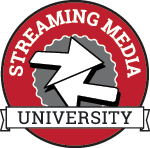 World Class Experts Deliver Content-rich Training
Streaming Media University features world class experts delivering content-rich training. This series of workshops at our Streaming Media East 2018 event offers attendees the opportunity to get deep-dive training on online video and streaming technologies. Three-hours in length, these workshops give you the sound theories and practiced techniques to become a top performer in the online video field. In the end, you'll walk away with a Streaming Media University Completion Certificate, and the professional know-how to enhance your career.
All Streaming Media University workshops include a light continental breakfast and morning and afternoon breaks PLUS complimentary access to the Streaming Media East Expo on May 8-9. Workshops may be registered for separately or are included with our Gold Pass options.
Monday, May 7
Morning Workshops
W1.
Encoding 2018: Codecs & Packaging for PCs, Mobile, & OTT/STB/Smart TVs
Monday, May 7: 9:00 a.m. - 12:00 p.m.
As video resolutions increase and target playback platforms multiply, video producers must leave their H.264/HLS/HDS comfort zone and expand into HEVC, VP9, and MPEG-DASH. This workshop is divided into multiple segments by target platform to teach you the applicable standards and best strategies for delivering live and VOD adaptive video to viewers on that platform, both with and without DRM. Along the way, attendees learn options for producing H.264, HEVC, VP9, and AV1; the status of standards such as the Media Source Extensions (MSE) and Encrypted Media Extensions (EME); and how and when to utilize them. Attendees walk away knowing the technical requirements for delivering to all key platforms and the best practices for making it happen.
Speaker:
Jan Ozer, Principal, Streaming Learning Center and Contributing Editor, Streaming Media
W2.
FFmpeg From the Ground Up
Monday, May 7: 9:00 a.m. - 12:00 p.m.
Encoding workflows for both small and medium-sized businesses and the enterprise can utilize powerful and free open source options, such as FFmpeg, which appeal to startups and established businesses for the flexibility in customization that it offers. The presentation explores extended encoding options for FFmpeg including libx264 (AVC/H.264) and libx265 (HEVC/H.265) to maximize compatibility with a wide range of mobile and desktop browsers, as well as streaming media servers. Attendees learn how to use filter effects, proportional crop/resize options, and mapping functions. Harness the power of FFmpeg in your next encoding pipeline upgrade!
Monday, May 7
Afternoon Workshops
W3.
Encoding Live & VOD for HEVC/HLS
Monday, May 7: 1:30 p.m. - 4:30 p.m.
Apple's support for HEVC in HLS is a groundbreaking event that opens up hundreds of millions of HEVC-capable players. If supporting this spec is on your short-term development schedule, check out this workshop. The workshop starts by reviewing the new spec and sharing playback details, like how well HEVC plays on hardware supported and nonhardware supported devices. Then it focuses on the HEVC codec itself, describing encoding options, royalty costs, and other implementation details. Learn how to create the necessary files and manifest files for mixed H.264/HEVC encoding ladders, and finish with a look at how to produce live content compatible with the new specification.
This workshop is hands-on and requires the use of an attendee-provided laptop. Laptops will not be provided.
Speakers:
Jan Ozer, Principal, Streaming Learning Center and Contributing Editor, Streaming Media
David Hassoun, CEO, RealEyes Media
Phil Moss, Software Developer, RealEyes Media
W4.
Learning Live Streaming Best Practices
Monday, May 7: 1:30 p.m. - 4:30 p.m.
This workshop teaches you how to use and configure the essential (and purposely redundant) components of a live streaming event system. Demonstrations include hardware from various vendors including cameras, H.264 encoders/streamers, video mixers, video signal conversion, recorders, and more. The workshop also discusses how to best deploy the live stream to your audience: Do you utilize free social media outlets, work with a premium third-party streaming service, or build your own live streaming infrastructure? Whether it's multi-camera switching, dedicated hardware encoders, hardware and software mixers, OBS, or FFmpeg roulette, you learn how to approach different live scenarios to fit the budget you have. And perhaps more importantly, you learn how to properly formulate a budget to avoid any common pitfalls in the process.
Monday, May 7
Sponsored Workshop
Hands-on Developer Lab: Recipe for Building a Video Kernel and Deploying at Cloud Scale with FFmpeg in 120 Minutes
Monday, May 7: 1:30 p.m. - 4:30 p.m.
In this hands-on lab, you will learn how to prepare, cook and serve an FPGA optimized video kernel. Using a large multi-tap video filter we will demonstrate how you can speed up the cooking time by 10x versus a CPU. For Dessert we will also show you how to generate, profile and optimize an FFmpeg plug-in for your multi-tap filter. By the end any software engineer will be comfortable generating a simple video function, be able to demonstrate significant acceleration versus traditional software implementation and understand how to generate the corresponding FFmpeg plug-in.
This free workshop is presented by Xilinix, Inc. and attendance is limited. Please note that access to this workshop is not part of any registration pass type that includes Streaming Media University. Workshop is hands-on and requires the use of an attendee provided laptop. Laptops will not be provided by Show Management or the sponsoring company.
IMPORTANT NOTE: Acceptance to this free workshop is subject to qualifying factors and Show Management and/or the workshop Sponsor reserves the right to deny registration at their sole discretion. Acceptance to this workshop doesn't not include access to any other conference events (including the VIP Mixer, regular conference sessions, or the exhibit hall). These events must be registered and paid for separately.